Philippe Van Wolputte
Linked Surfaces
06.05.2017 — 02.07.2017
For his solo show in hometown Antwerp, Philippe Van Wolputte (°1982) has created a large installation consisting of two parts, following the architecture of LLS 387. Upon entering the exhibition space, visitors suddenly find themselves in a dazzlingly white surrounding composed of styrofoam and held together by mint green polyurethane foam and metal stakes. This makeshift faux-ice landscape fills the room all the way up to the ceiling and covers the floor with powdery snow-like remains — all traces of a bold yet playful sculptural gesture. We notice several antennas sticking out of the foam, connected by black electric wires leading to a radio sender/receiver and modular synth in the back of the exhibition space. This brightly lit environment — overexposed, as it were — stands in stark contrast with the dark and gloomy installations that characterize Van Wolputte's earlier practice. There is a continuum from the visual to the auditory; we hear an atmospheric soundscape composed of white noise, occasionally interrupted by undefined radio transmissions. The second room of the exhibition — located in the backyard — has a narrow passageway and is filled with large styrofoam blocks, carved as if they were blocks of marble or ice. There are stacks of bricks suggesting a kind of construction activity, similar to Van Wolputte's installation at M HKA in 2015.
It doesn't take much effort for the visitor to envision a basecamp in the barren conditions of the Arctic or Antarctic region or, for that matter, the pioneering expeditions to the North and South Pole at the beginning of last century. Surrounded by numerous myths and legends, these perilous missions were in fact driven by competition between male individuals in the hunt for eternal fame and glory. Although many scientists now assume the exact, i.e. geographic pole — an imaginary point after all — hasn't been discovered until much later, the accounts of those early explorers still continue to spark the imagination until today. Perhaps most notorious is the rivalry between Frederick Cook and Robert Peary, former friends and shipmates who decided to venture on separate journeys to the Arctic. They both claimed having "discovered" the North Pole, respectively in 1908 and 1909, accusing each other of forgery, incompetence and lies. Peary fiercely contested Cook's earlier claim, consulting numerous scientific experts in an attempt to prove that some of the expedition pictures had been staged in a different place or the wrong navigational tools had been used. Eventually Peary would win a series of subsequent trials and make history as the first who discovered the "last spot" on Earth.
The blurring of truth and lies, reality and documentation has fascinated Philippe Van Wolputte for a long time. Also the parallel between these pioneering explorers and the heroic or marginal position of the artist is not even that far-fetched. Looking at the few photos of travellers made during these historic expeditions, one is easily reminded of the nomadic outsider figures in Van Wolputte's Looking Back While Walking Forward, a series of works presented at BOZAR in Brussels in 2013. Except in the case of this exhibition, there are no characters to be seen. Or is it the visitor who suddenly becomes the protagonist, wandering through an otherworldly terrain like a post-apocalypse survivor? If the issue of climate change is indirectly being tackled here, why would the artist be making a sculptural installation with isolation materials that biodegrade slower than the ice caps are melting? Today more than ever, the polar region is being threatened by political and ecological struggle, as it becomes increasingly accessible to industrial activity such as gas and oil drilling. The same kind of antagonism can be found in urban development, one of the core themes in Van Wolputte's work, where economic colonization is translated into processes of gentrification.
Linked Surfaces stages an intriguing conflict between fact and fiction, nature and artefact, purity and pollution. In this polar twilight zone, the exact message of the work is deliberately obfuscated, leaving the viewer in the dark amid the bright white lights.
Pieter Vermeulen, May 2017
Philippe Van Wolputte, Linked Surfaces, 2017 Foto: Ria Pacquée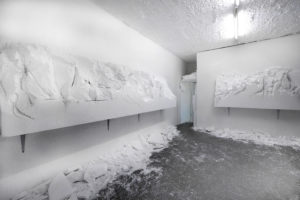 Philippe Van Wolputte, Linked Surfaces, 2017 Foto: Ria Pacquée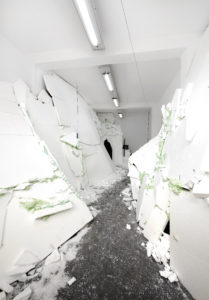 Philippe Van Wolputte, Linked Surfaces, 2017 Foto: Ria Pacquée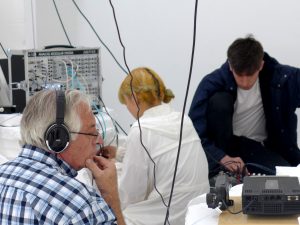 Philippe Van Wolputte, Performance/soundscape op 19/5/17 Foto: Ria Pacquée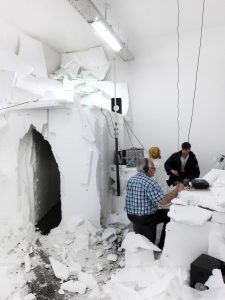 Philippe Van Wolputte, Performance/soundscape op 19/5/17 Foto: Ria Pacquée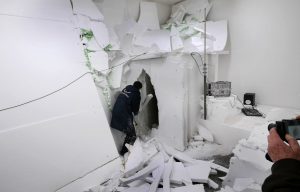 Philippe Van Wolputte, Performance tijdens opening op 5/5/17 Foto: Chakky Kato
Performance/soundscape tijdens het Antwerp Art Weekend op vrijdag 19 mei van 18 – 22 uur:
gebruikmakend van korte golfsignalen en gemodificeerd door modulaire synthesizers,
met Philippe Van Wolputte, Chakky Kato en Frank Van Wolputte
Met dank aan/With thanks to: Chakky Kato, Frank Van Wolputte, Nadia Bijl, Gregory Brems, Elias Cafmeyer en/and Hans Wuyts.
Met de ondersteuning van: de Vlaamse overheid en de Stad Antwerpen.
Gesponsord door: Duvel Moortgat.